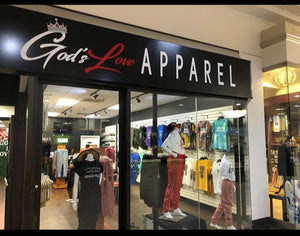 NOW OPEN AT THE MELBOURNE SQUARE MALL!
God's Love Apparel is proud to announce we are now open for business at the Melbourne Square Mall in Melbourne, Florida. 
1700 West New Haven Ave Ste 659
Melbourne FL 32904
(right next to the puppy place)
Come check us out! We have exclusive in store merchandise available such as joggers, tees, hats, accessories, purses, and more! Mention your a part of the God's Love Apparel fan base and receive 10% off your in store purchase for our Grand Opening celebration. 
---